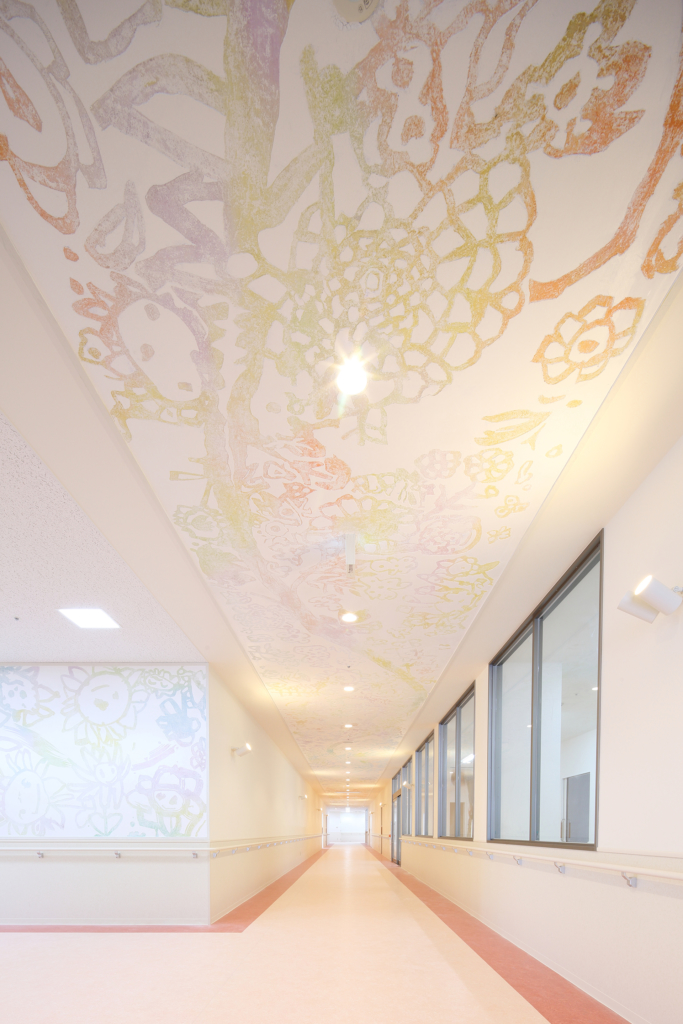 Click to enlarge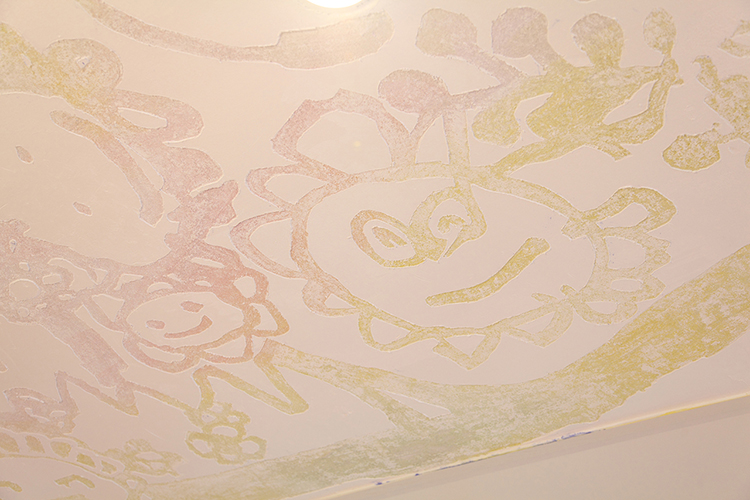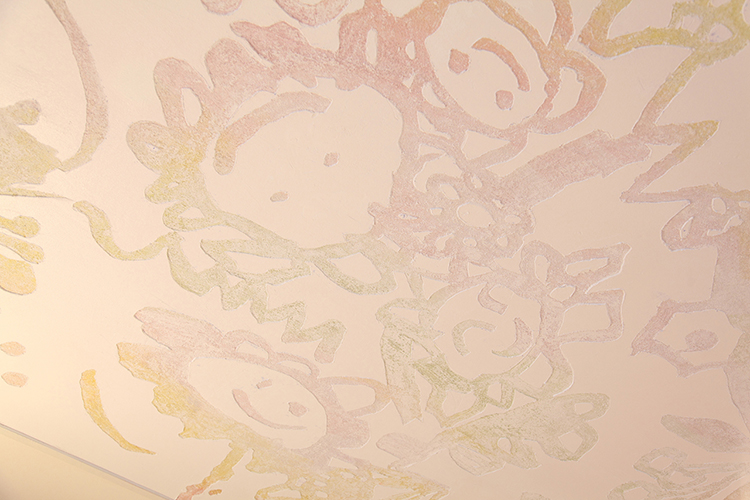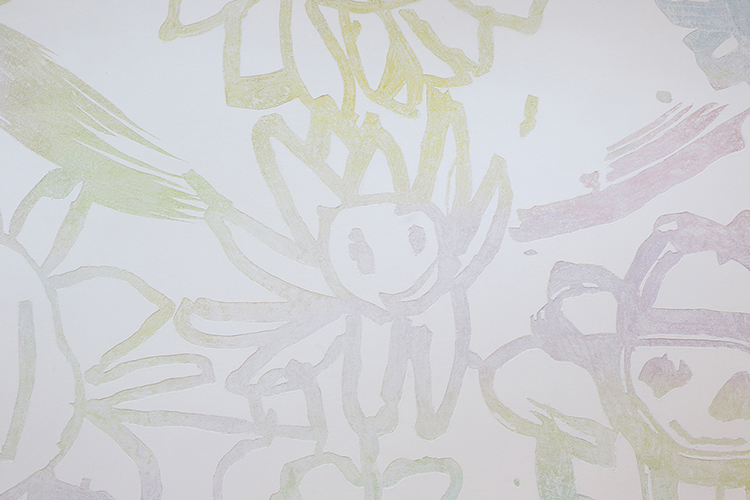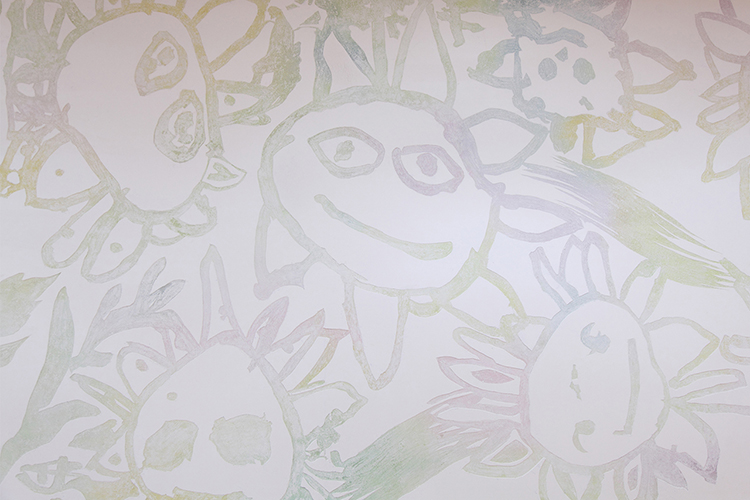 About the Project
The mural is made as a project of the new opennig of CARETOWN NAGATO, Nursing Home in Oita Japan. The mural is depicted with a lot of characterized flowers made by children. The celling wall is 2m wide and 45m long from entrance hall to the end of hallway on grand floor. We hope people to look up the celling and lots of flowers makes them smile.
This mural is made by Sgraffito which means "to scratch," or "to scrape." This Fresco technique is used to draw on a plaster surface. First, colors are painted on a plaster surface, and then another layer of plaster is applied on top. Finally, the top layer is scraped off along a design outline. Limewater is applied to the surface to cover the paint. The paint becomes calcified and works to preserve the bright colors. This technique was mainly used in medieval European architecture as a decorative technique.
Making of "Makes You Smile!"
1: The Making of Full Scale Drawing
"Let's make a flower field!" 120 children of Saiki-City made a full-scale drawing. They drew really wonderful pictures using specially made large paintbrushes.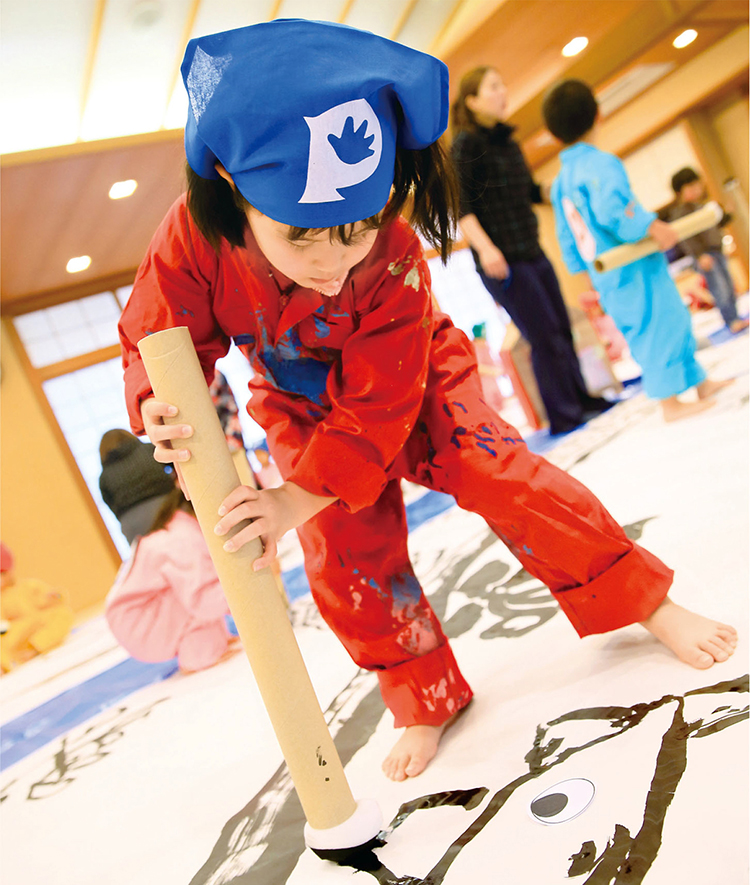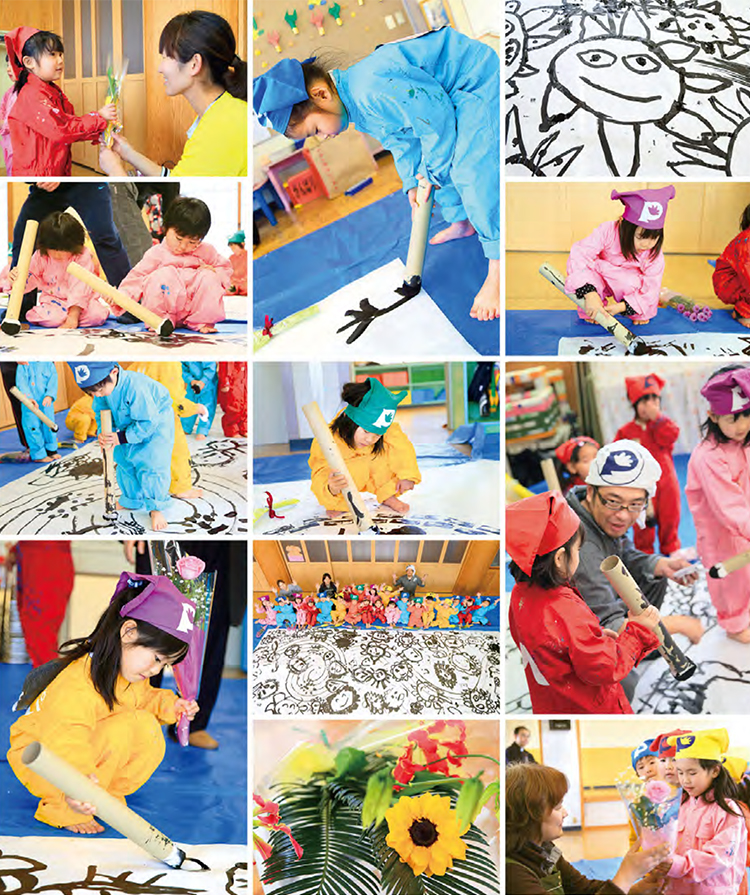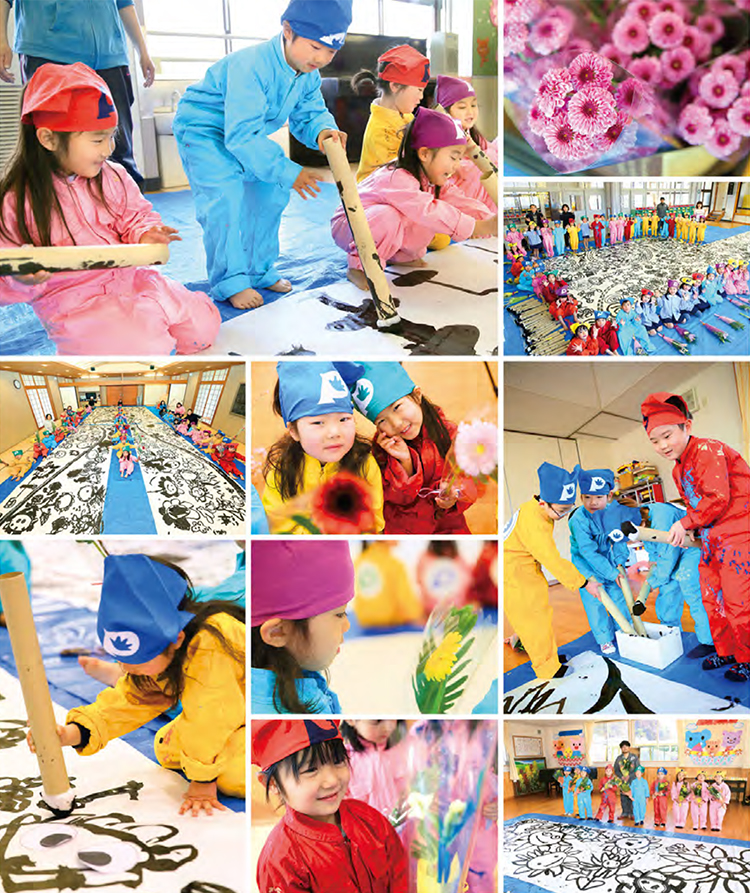 2: Making of Special Decal: Cartone
By using incense sticks, we burned small holes along the outline of the children's drawings. These holes were used to transfer the lines of the drawings onto the surface of the wall.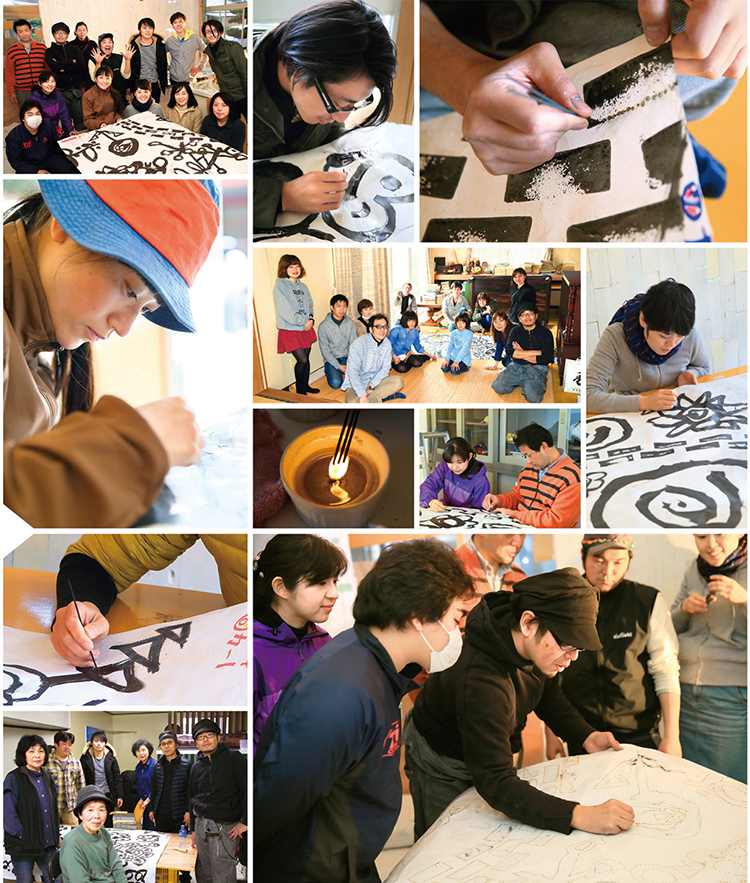 3: The first layer and coloring
When the first layer of plaster was only half-dry, we painted using water-soluble pigments. This special period of time is called the "golden time zone," meaning the time when the plaster absorbs pigments best. We felt thrill and excitement beyond words.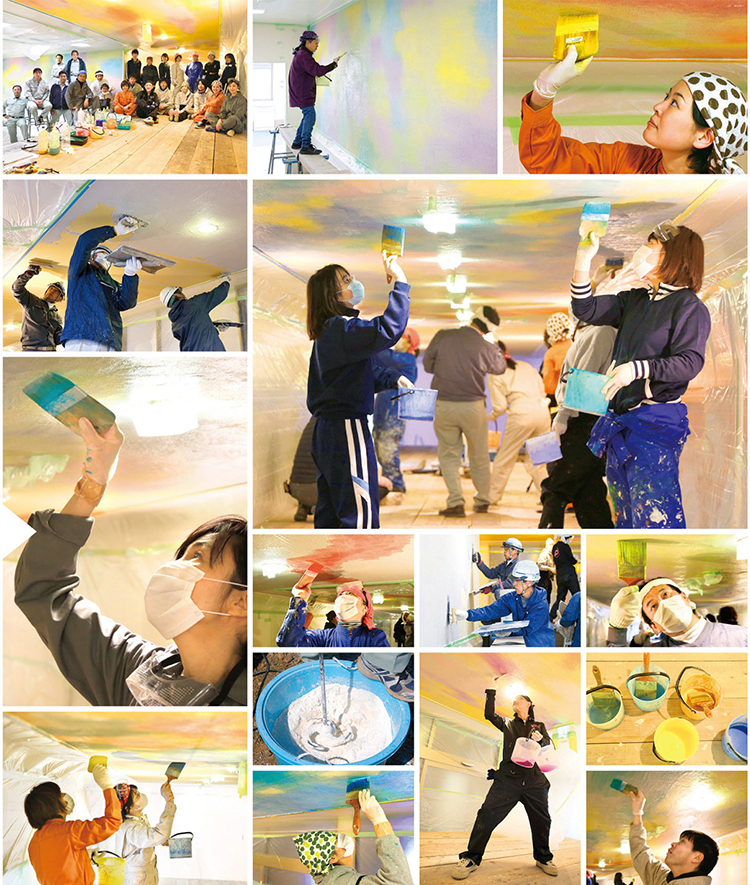 4: Scratching & Scraping: Sgraffito
The last procedure is scraping. The shape of the design must be scraped before the plaster completely dries. We had to race against the clock.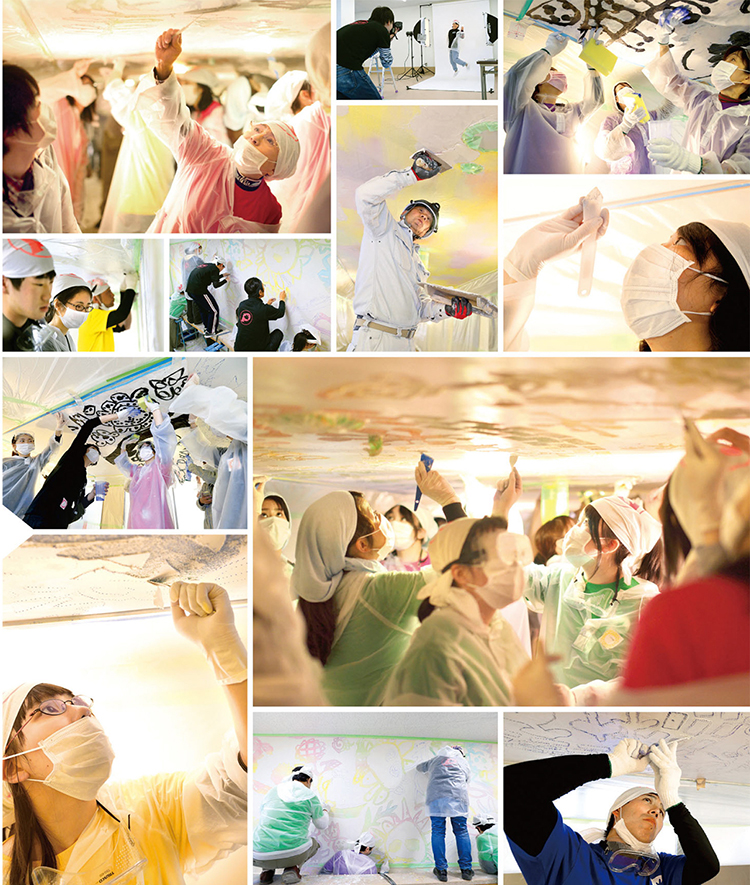 Information
Location:
CARETOWN NAGATO
1-11-59 Tsuruoka-machi,
Saiki City,
Oita-Prefecture, JAPAN
Date:
3/22-23/2014
Size:
2m x 45m (6.6ft x 144ft)
Organizer:
Chara-Rimpa Project (Pacific Kids Mural Foundation)
Sponsor:
NAGATO MEMORIAL HOSPITAL
Supporter:
T.S.A.P Inc., Lumbini Kindergarten, Zenkyoji temple, PG COLLABO Inc., Saikikensetsu, Marukyo Co.,Ltd., TAKE5, Saiki Gendei, New Focus, Uchida Studio, Sakura culture center, YAYOI DENTAL CLINIC, Sakura Kougyo, Yamashita AD company, Oita Bank, Saiki Cable TV, NHK, OITA GODO SHIMBUN INC.,