【FRANCE】
About the Project
The mural project was held at L'école de la houille blanche in Grenoble, France. Grenoble is an international city with numerous technological industries that has earned it the moniker "Silicon Valley of France". It is also in an incredible location, surrounded by the Alps. Whichever direction you turn, you are greeted by the Chartreuse, the Vercors, or the Belledonne. And the views from the mountains are breathtaking.
In June 2016, we created two murals which we collectively named "Alpine Picnic" at a children's school in Grenoble. One mural was painted on the outer walls of the school gymnasium, and the other one was on the façade of the school cafeteria. Students submitted drawings for the mural and our artist used their drawings to create the overall mural design. to The theme of the characters on the murals was inspired by the town. The children's mothers formed a team called "HB in colors". The team went around the town to search for themes and made several "mission cards" which described the different themes featuring well-known things in Grenoble. Each student chose one mission card and came up with a special character based on the mission card. Through this brainstorming activity, the students came up with lots of characters representing Grenoble that were used in the mural painting. These characters appear to be having fun under the colorful mountains.
Gymnasium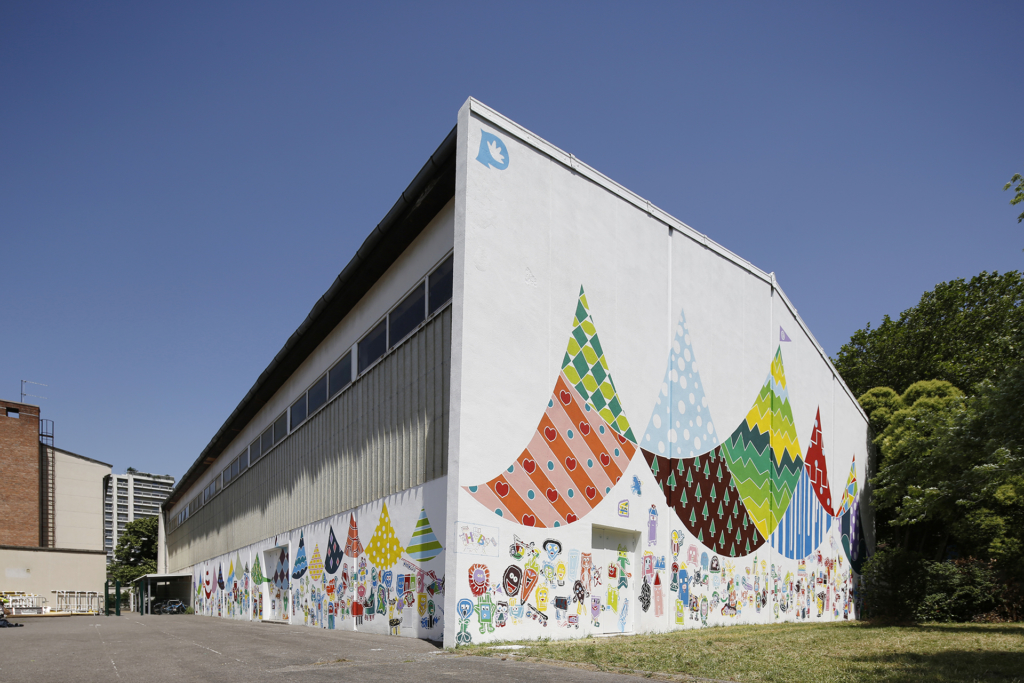 Click to enlarge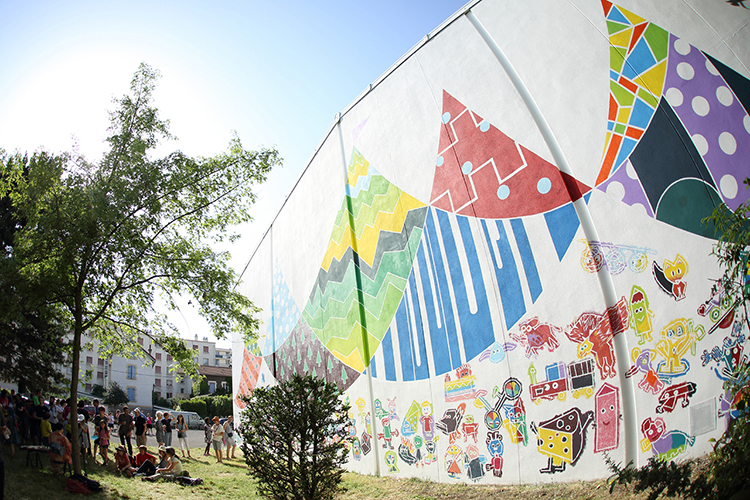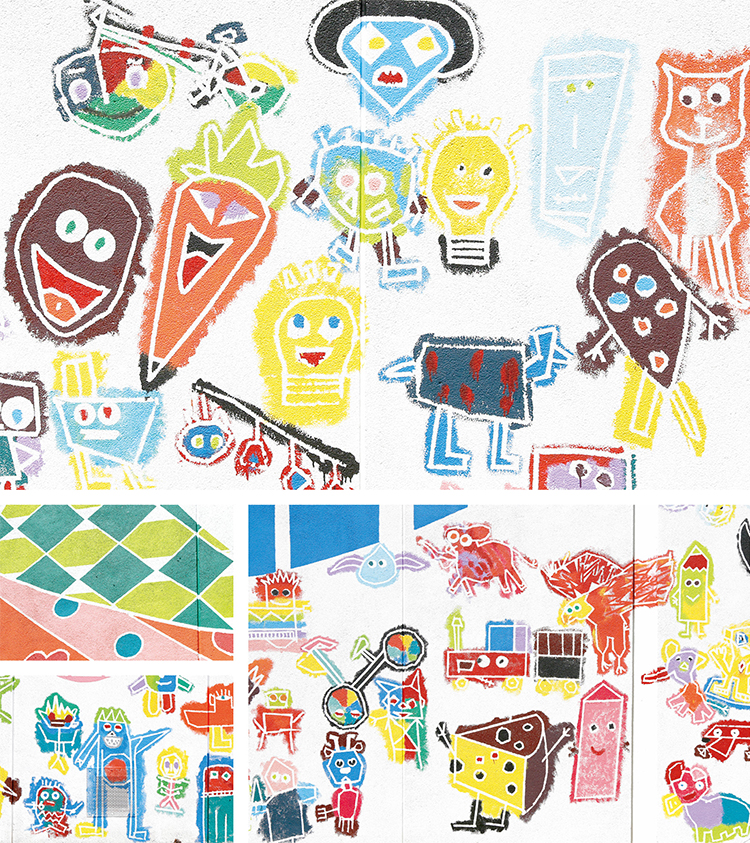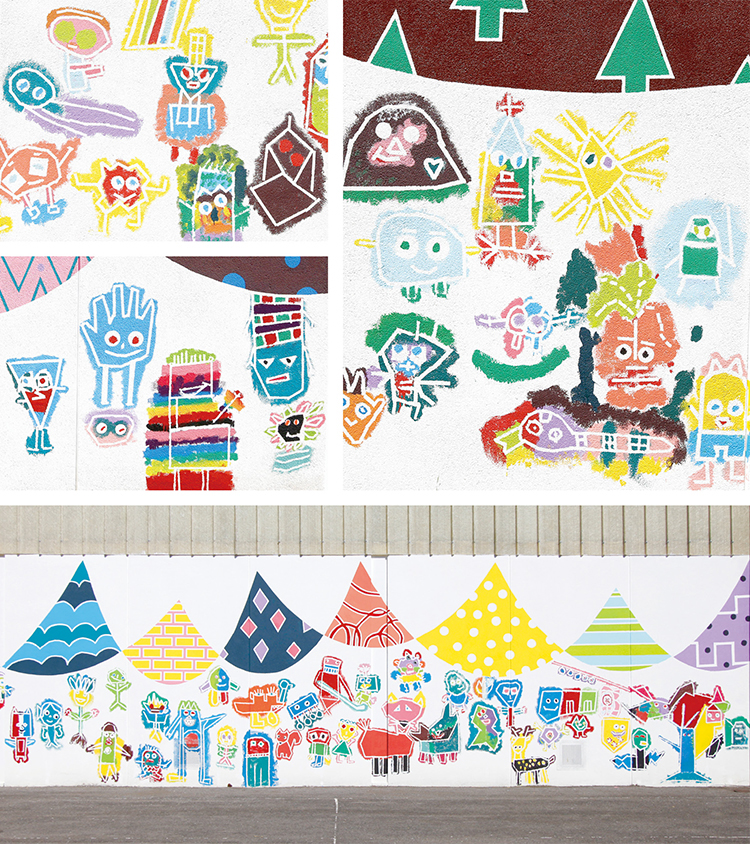 Cafeteria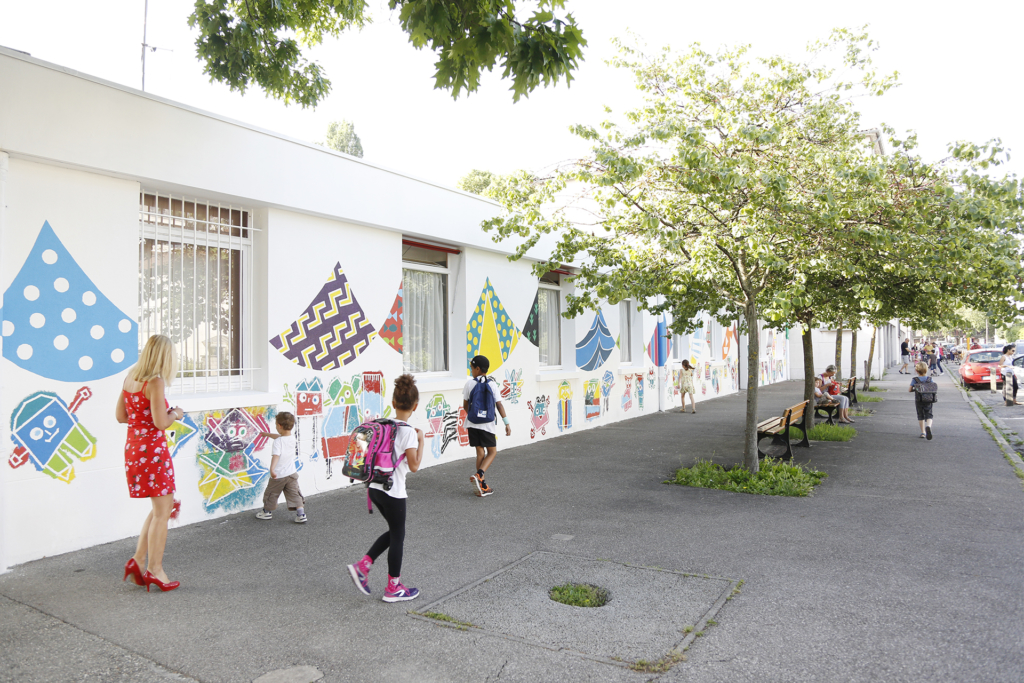 Click to enlarge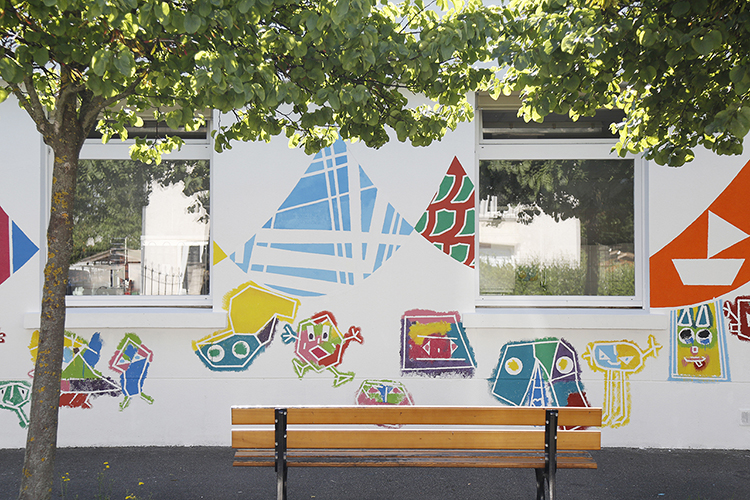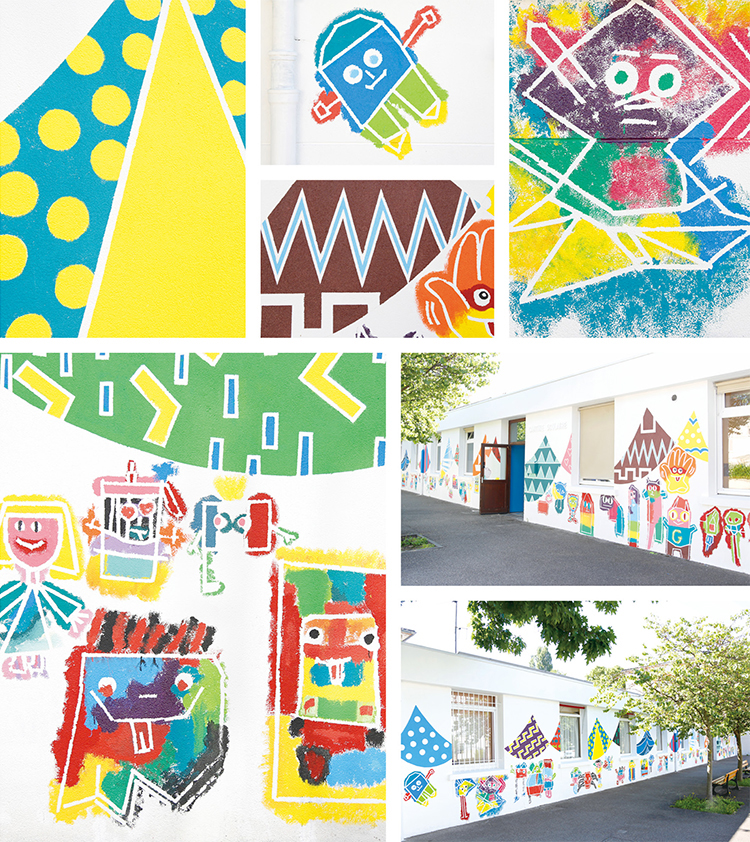 Making of "Alpine Picnic"
1: Making murals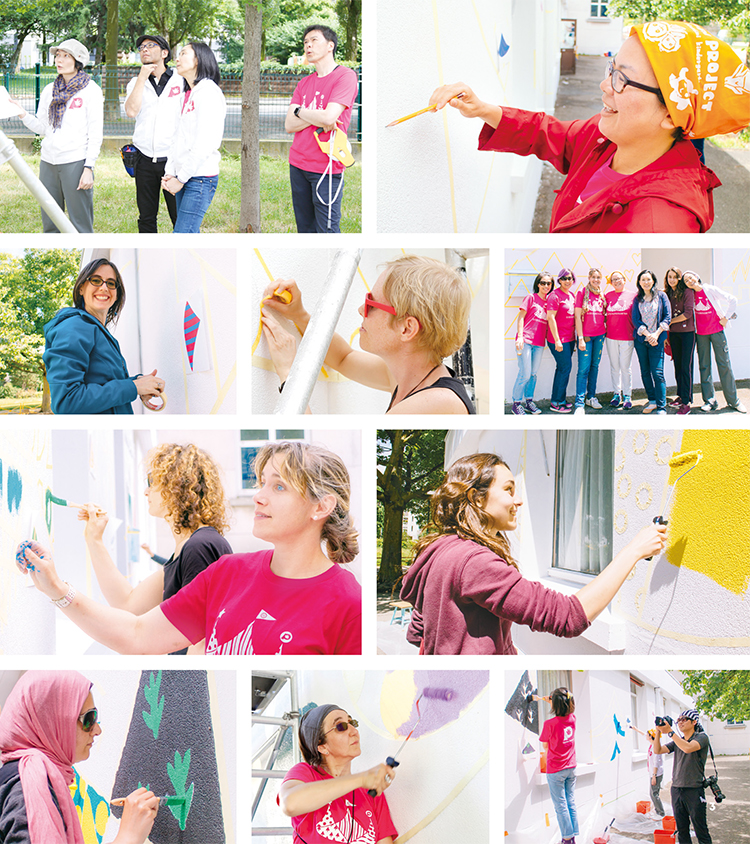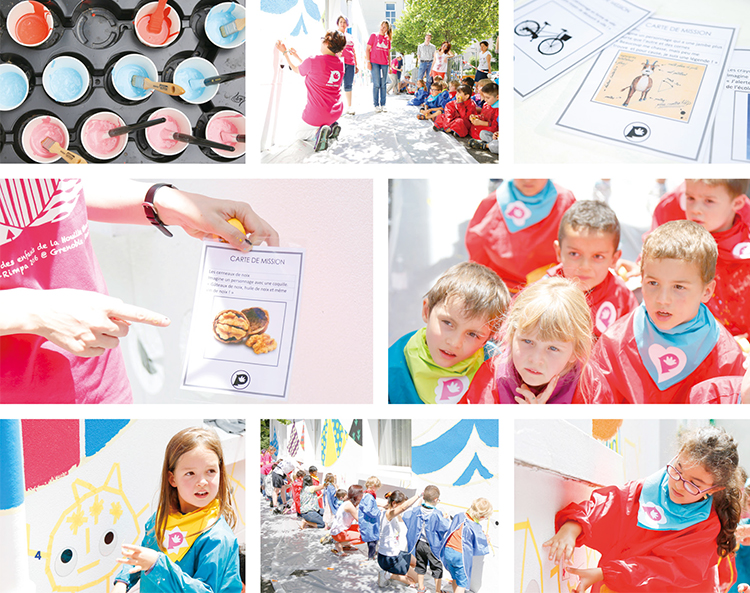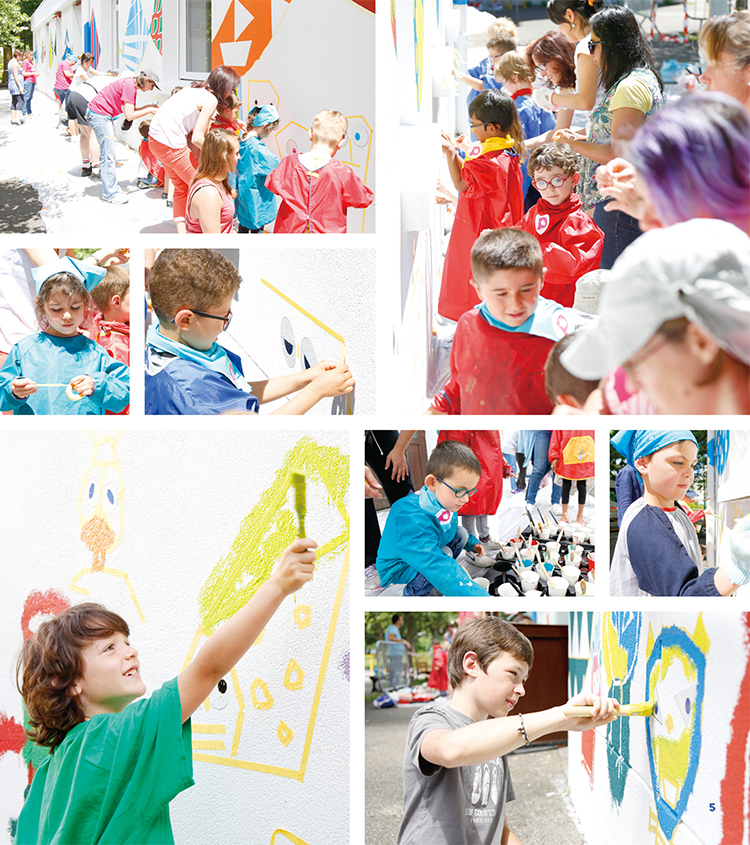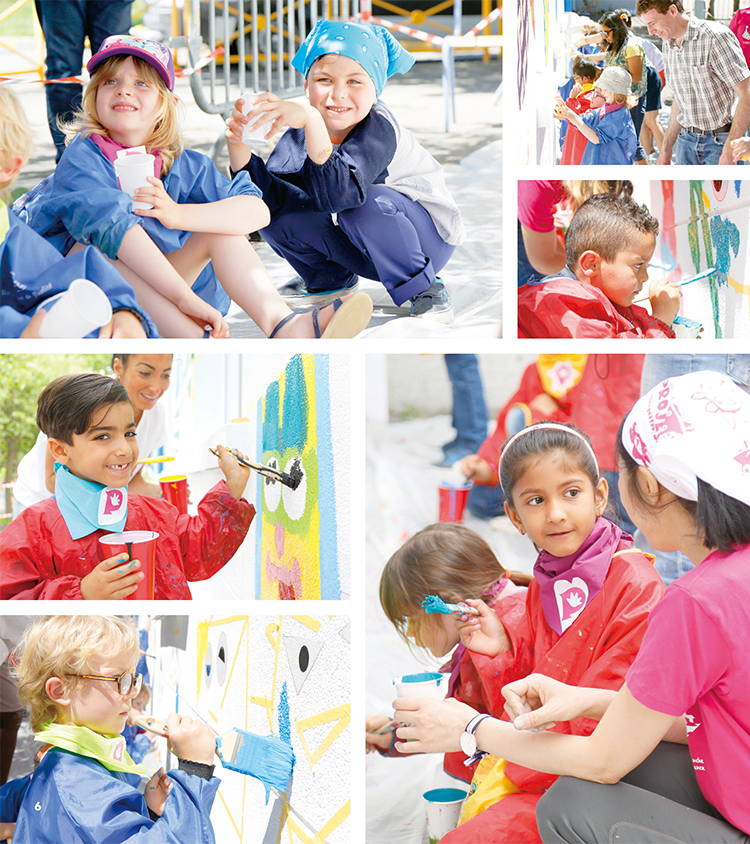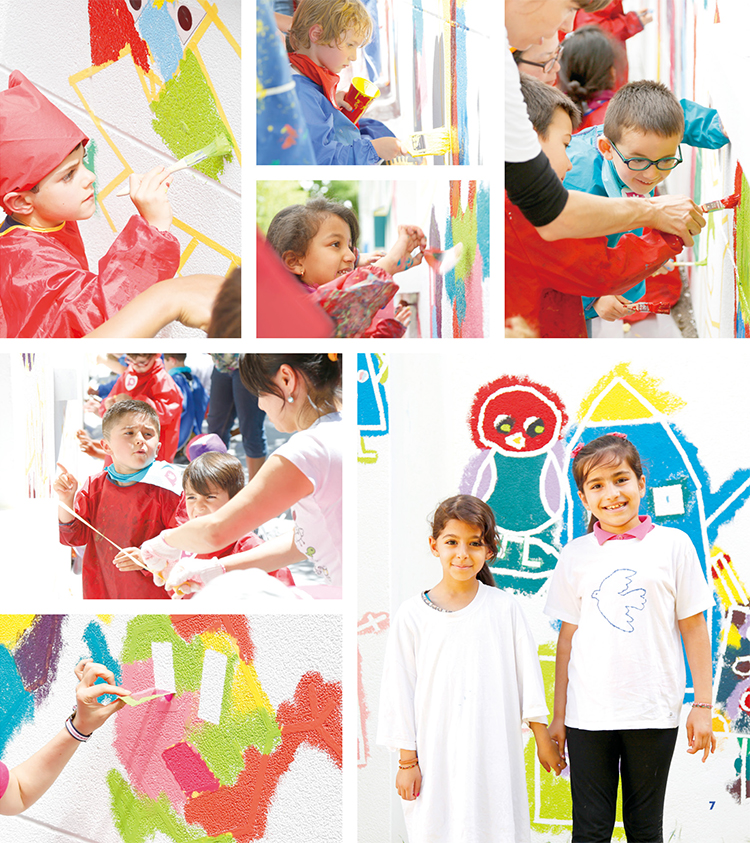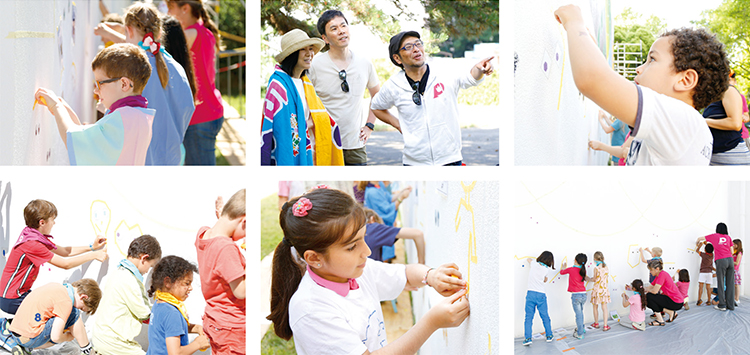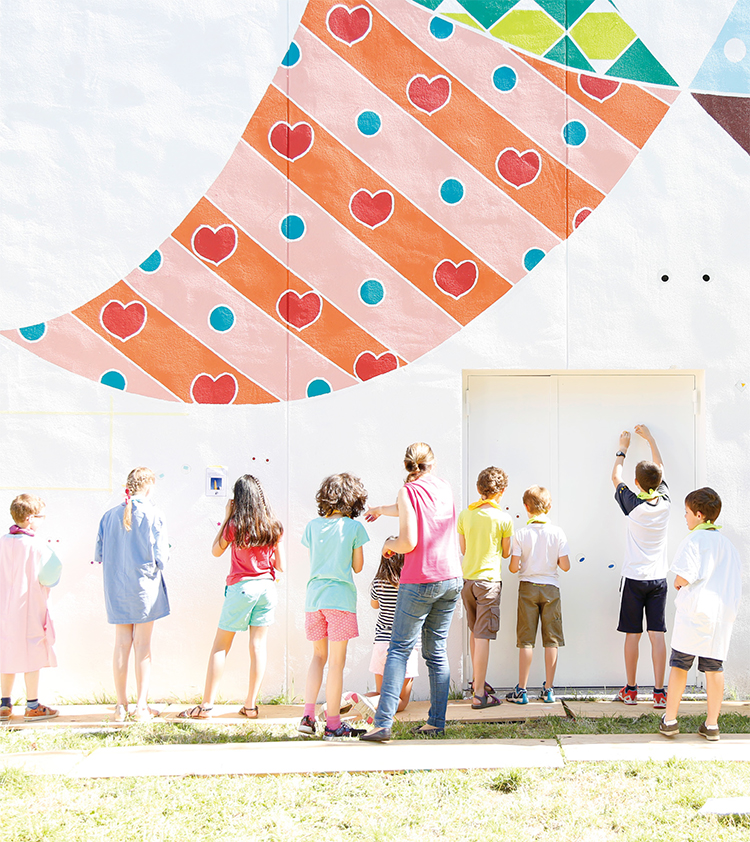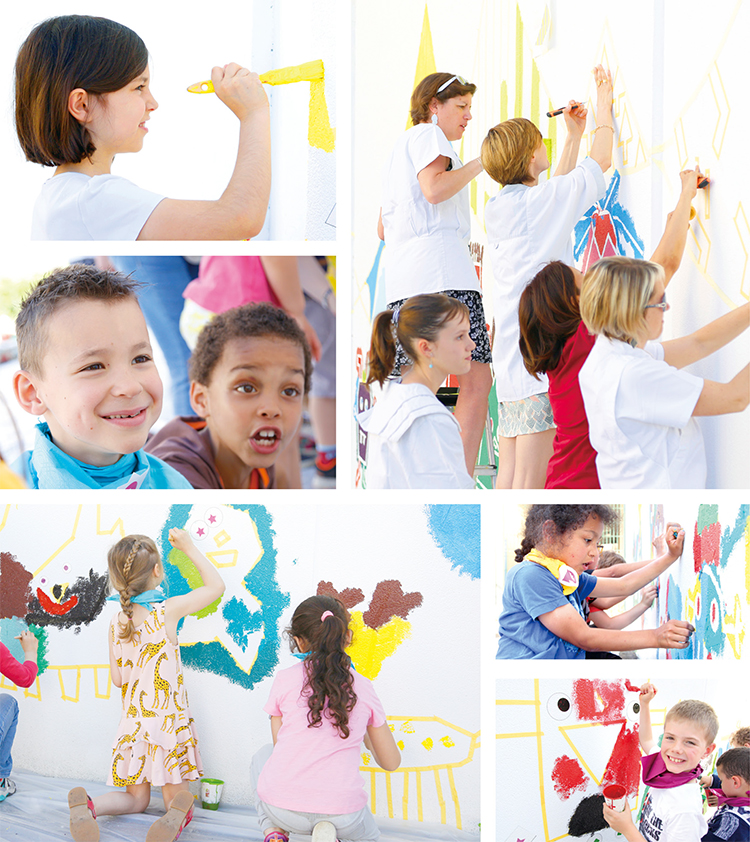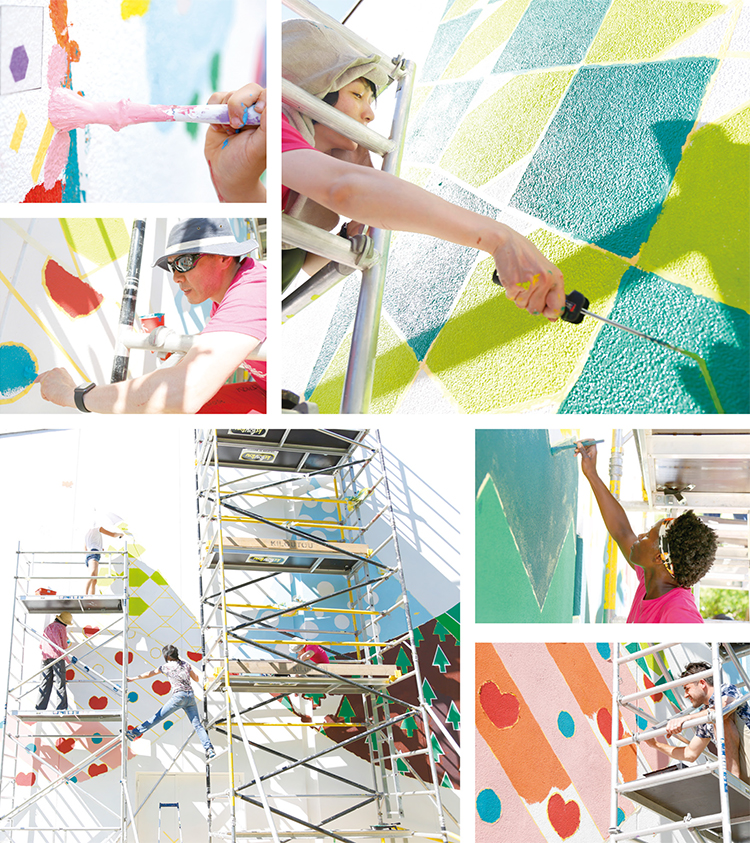 The mural design was chosen from the students' drawings.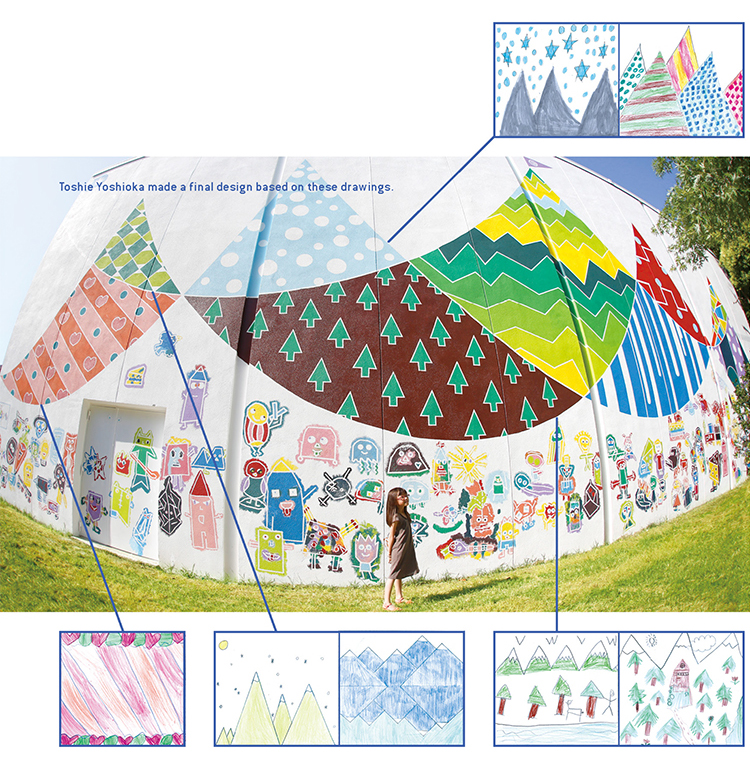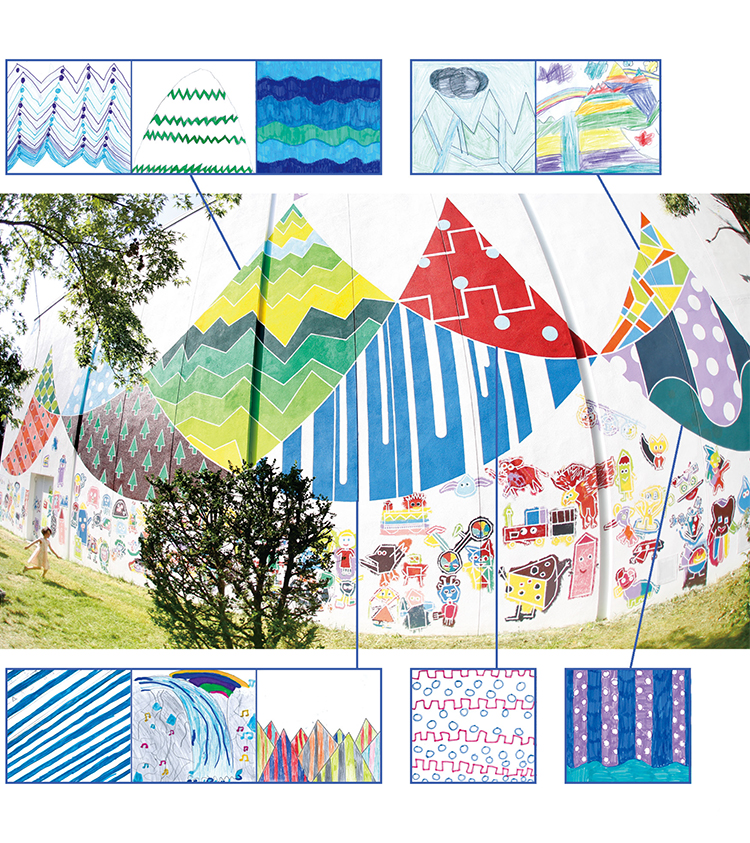 2: Closing Event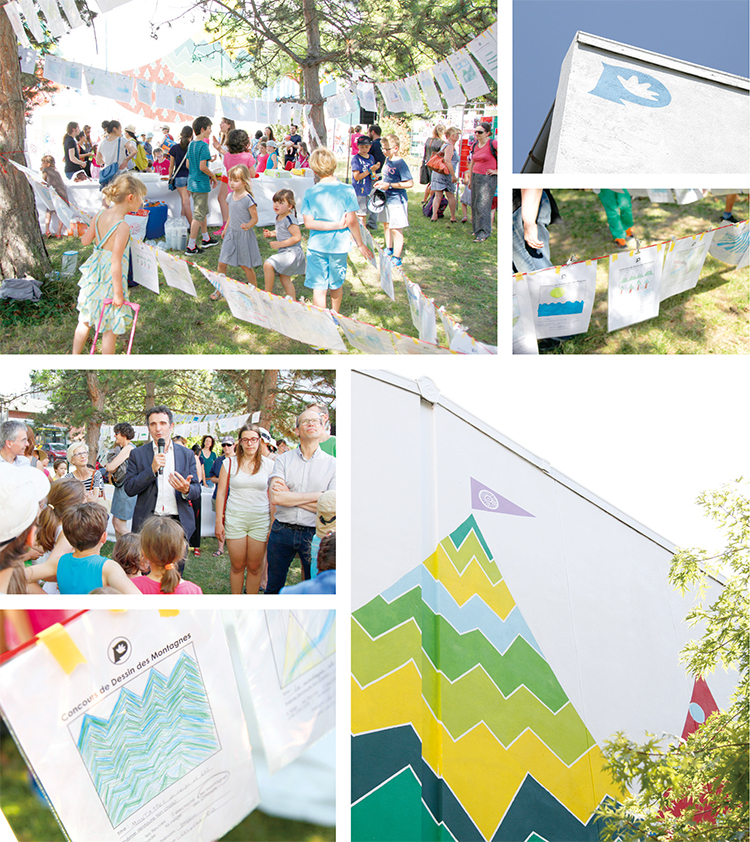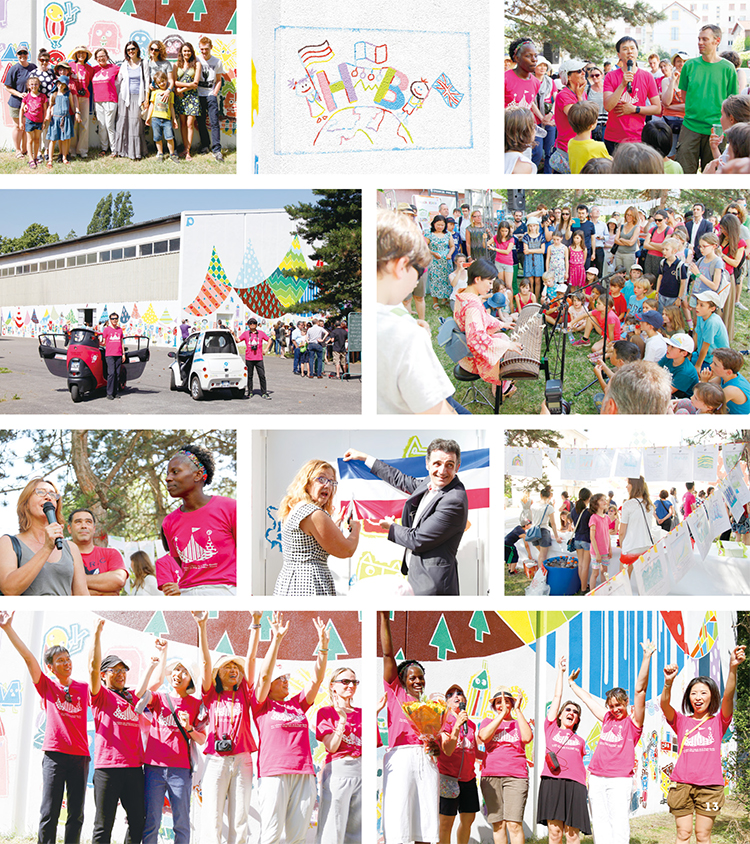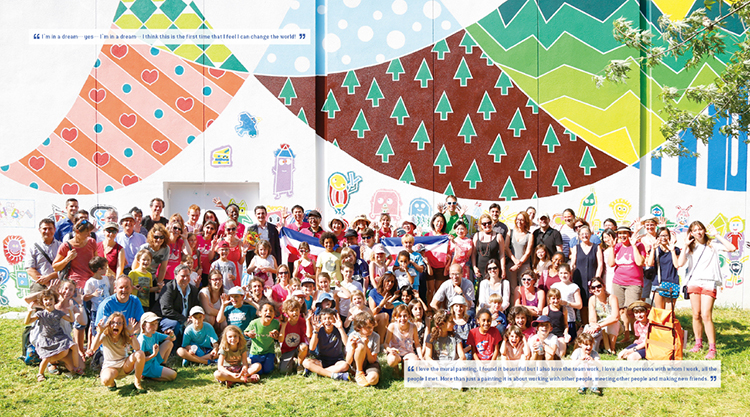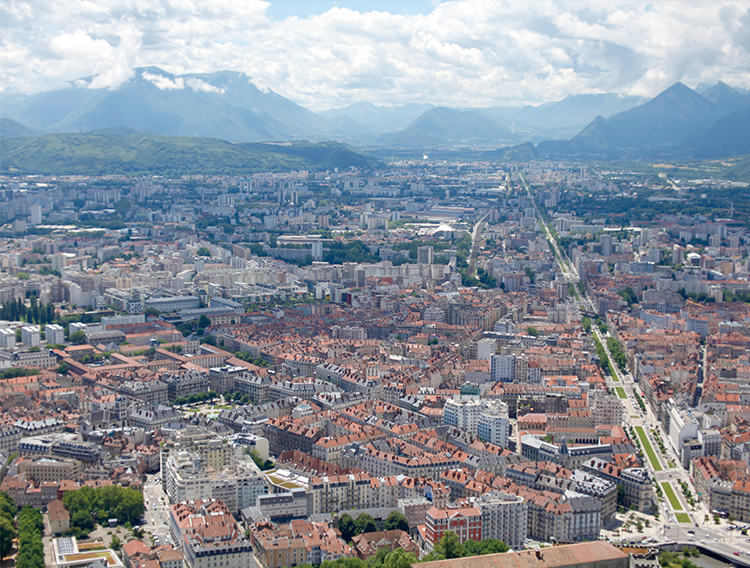 Information
L'école de la houille blanche
7 Rue de la Houille Blanche, 38100 Grenoble, France
Date:
6/20-6/24/2016
Size:
South Wall 22 m x 10 m (72.1ft x 32.8ft)
West Wall 28 m x 3 m (91.8ft x 9.8ft)
Organizer:
Chara Rimpa Project (Pacific Kids Mural Foundation)
Sponsor:
Tokyo Electron Limited
NEUTRONS FOR SCIENCE
Cité Lib by Ha:mo
City of Grenoble
Supported by:
La Houille Balance en couleurs, L'école de la houille blanche, Lumbini Kindergarten, T.S.A.P Inc, PG Collabo Inc.